By the creators of the famous "Alice In Musicland" in 2011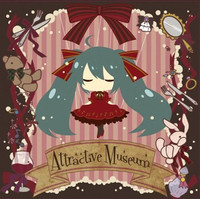 Popular female vocaloid song creator OSTER Project will release her latest album "Attractive Museum" from a newly-launched label Subcul-rise Record on April 23. The 14-song album includes a new 20-minute long vocaloid musical tune "Music Wizard of OZ" featuring Hatsune Miku (Append), Kagamine Rin & Len (Append), Megurine Luka, MEIKO, KAITO V3, and Vocaloid3 Megpoid. As the title suggests, the musical is based on the 1939 fantasy film The Wizard of Oz. The illustrations in the PV are drawn by Y-oji, who has worked with OSTER Project for several years including the famous "Alice in Musicland" PV.
The official PV for her 2011 vocaloid musical song "Alice in Musicland," which was based on Lewis Carroll's Alice in Wonderland, has been viewed more than 1.25 million times on Nico Nico Douga as of February 17 and is still considered as one of the best vocaloid videos.
"Music Wizard of OZ" (2014)
"Attractive Museum" CD jacket by Y-oji
OSTER Project artist photo
"Alice in Musicland" (2011)
Source: Natalie