The title track from the upcoming 2nd album "a boy"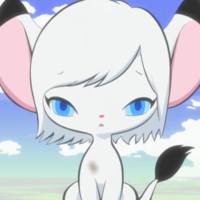 19-year-old Japanese pop singer Leo Ieiri has posted a short version promotional video for "a boy," the title track from her upcoming 2nd album. It features the anime version of Ieiri as a young lion meeting the characters from Osamu Tezuka's classic manga/anime series Jungle Emperor (English title: Kimba the White Lion).
The anime part of the PV is animated by Masayoshi Nishida, one of the representative animators in Tezuka Productions and directed the Eyeshield 21 TV anime (1st to 103rd episode). The studio learned Ieiri's first name was inspired by Jungle Emperor and Luc Besson's 1994 film Léon: The Professional starring Jean Reno, then made contact with her agency to realize this collaboration project. The full version PV will be included in the DVD bundled with the limited edition of the album which is scheduled to be released in Japan tomorrow on February 19.
"a boy" short PV
Leo from "Jungle Emperor"
"a boy" limited edition CD jacket
Source: Natalie
© Victor Entertainment, Inc.
© Tezuka Productions, Mushi Productions