Japanese hospitality at its best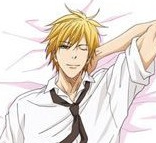 What is the most embarrassing thing you have ever left in a hotel room? I'm sure many of you have hilarious stories to tell from anime convention visits, but this one is from a Japanese Twitter user who left her Goodnight Sheets featuring Ryota Kise from Kuroko's Basketball on a bed in a hotel room. When she returned to her room, a thoughtful maid set it up all perfectly for her.
Image via @PINE_OHRA
Apparently, the Twitter user forgot to take off the Kise sheets before she left the room and the maid placed the pillow on the spot where the guest can "sleep" with Kise instead of placing it at the normal position. Japanese hospitality at its best.