NTT Docomo conducts a Next-Miyazaki survey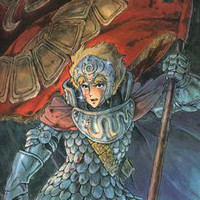 Following last fall's announcement that Hayao Miyazaki will retire, Japanese telecom provider NTT Docomo conducted a non-scientific "Voice of the People" survey in which 8585 responded to the question of who they think will carry the banner of anime forward after the internationally revered, Oscar-winning and again -nominated director left the medium.
1. Goro Miyazaki
The son of animators Hayao Miyazaki and Akemi Ōta, Goro originally studied landscape agriculture and worked on developing outdoor spaces before becoming director of the Studio Ghibli Museum in 2001. Said to have a complex relationship with his father, the two worked together on his second anime film, 2011's From Up on Poppy Hill, which was critically more well received than his earlier Tales From Earth Sea.
2. Hideaki Anno
Evangelion creator Hideaki Anno's career has deep ties with the works of Hayao Miyazaki and Studio Ghibli. Hideaki Anno worked as an animator for Studio Ghibli forerunner Topcraft on Miyazaki's Nausicaä of the Valley of the Wind. Anno impressed the crew so much that Toshio Suzuki has said that there was talk of making the ecological epic a trilogy with Anno directing the middle feature, and there's still chatter that the project may happen.
More recently, Anno featured the God Warriors from Nausicaä in a live-action short produced for his tokusatsu effect exhibit, then voiced the lead in Miyazaki's final movie, The Wind Rises.
3. Mamoru Hosoda
Another person who at one point seemed to be groomed for a prominent role in Studio Ghibli. Miyazaki returned from retirement to direct Howl's Moving Castle when the Girl Who Leapt Through Time, Summer Wars and Wolf Children director parted ways with Ghibli.
4. Mamoru Oshii
The director of Ghost in the Shell, Sky Crawlers, Urusei Yatsura: Beautiful Dreamer and other classics is currently at work on the live-action Patlabor project. Oshii has an extensive history of trolling Miyazaki, saying that his work had become too nostalgic as far back as 1995 and comparing Ghibli to the Kremlin. It's probably partially joking, but he can find bad things to say about every Miyazaki movie.
Other example of Oshii's interest in live-action, or at least semi-live-action:
5. Katsuhiro Otomo
The Akira director recently helmed the Short Peace anthology and directed its Combustible segement. The Shuhei Morita directed Possessions was nominated for an Oscar.
6. Makoto Shinkai - Voices of a Distant Star, The Garden of Words

7. Yoshiyuki Tomino - Mobile Suit Gundam, recently a domain associated with his G-Reco sci-fi project (g-reco.net was registered

8. Gisaburo Sugii - Night on the Galactic Railroad and recently helmed the anime adaptation of beloved children's writer Kenji Miyazawa's The Life of Guskou Budori

9. Hiroyuki Morita - with 2002's The Cat Returns he seemed to find a place at Studio Ghibli, went on to direct the Bokurano, then took the role as animator in anime such as Tales of Earthsea and Fullmetal Alchemist: The Sacred Star of Milos

10. Goro Taniguchi - Code Geass: Lelouch of the Rebellion and more recently Fantisista Doll

11. Seiji Mizushima - Fullmetal Alchemist, working with Gen Urobuchi (Puella Magi Madoka Magica) on upcoming Toei original sci-fi anime movie Expelled From Paradise

12. Tsutomu Mizushima - Girls und Panzer

13. Akiyuki Shinbo - Puella Magi Madoka Magica

14. Yutaka Yamamoto - Haruhi, currently Wake Up, Girls!

15. Keiichi Hara - Crayon Shin-chan, Doraemon, getting some "next-Miyazaki" critical chatter for 2010's Colorful
16. Hiromasa Yonebayashi - The Secret World of Arrietty, unlike Morita, he has another Ghibli project in the pipeline, this summer's When Marnie Was There

17. Junichi Sato - Aria, the new Amazing Twins OVA

18. Tatsuyuki Nagai - AnoHana

19. Hiroyuki Okiura - 1998's Jin-Roh, then 2011's A Letter to Momo
20. Other
------
Scott Green is editor and reporter for anime and manga at geek entertainment site Ain't It Cool News. Follow him on Twitter at @aicnanime.