The live-action reboot hits Japanese theaters on May 24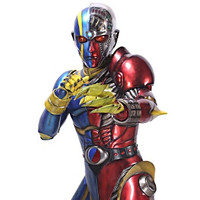 The official visuals of Kikaider and Hakaider for Kikaider REBOOT, a live-action reboot film of the 1972 tokusatsu TV series Jinzou Ningen Kikaider created by Shotaro Ishinomori (Kamen Rider, Cyborg 009), are revealed to the Japanese media today. It was also announced that 66-year-old Daisuke Ban, who played Jiro, the human form of Kikaider in the 1972 TV series, will play a mysterious psychologist named Kyujiro Maeno in the film. We can read the name "Kyujiro" means "Previous Jiro" in Japanese. 20-year-old Jingi Irie (Jun Hoshide in the live-action film of Moshidora) plays the new Jiro/Kikaider in the reboot as his first film leading role.
The story sets in Japan's near future. Dr. Nobuhiko Komyoji who was the authority on robot engineering originally took charge of "ARK Project," Japanese government's national project to use robots peacefully to solve the problems beyond human control. One year after the sudden death of Komyoji
during an experiment, the project has been taken over by Komyoji's rival Kanzaki and the Minister of
Defense Tsubakiya, and has started losing its original object. Then Jiro/Kikaider, an android with a conscience
circuit created by Komyoji, gives battle to the project and tries to protect Komyoji's daughter and son, Mitsuko
and Masaru, who have the key to complete the project.
Kikaider REBOOT is directed by 47-year-old Ten Shimoyama, who is known for his 2005 ninja action film
SHINOBI-HEART UNDER BLADE- starring Joe Odagiri (Kamen Rider Kuuga), and is scheduled to be
released in Japan on May 24. The shooting was already finished on February 26.
Kikaider in "Kikaider REBOOT"
The original Kikaider in the 1972 TV series
Hakaider in "Kikaider REBOOT"
The original Hakaider in the 1972 series
Jingi Irie (left) and Daisuke Ban (right)
(tentative?) Title logo via the film's official Twitter
Source: Netlab
© Ishimori Pro, Toei
© 2014 "Kikaider" Production Committee