The 1st single after the graduation from Hello! Project.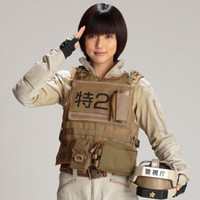 The official website for the forthcoming Mobile Police Patlabor live-action project titled THE NEXT GENERATION -PATLABOR- today announced that Erina Mano, who is cast as Akira Izumino (using the same Chinese characters with Noa Izumi in the original series, but a different person), will also sing "Ambitious!," the theme song for the first seven episodes. This is her first single after she left Hello! project in February 2013. The song is written by Ryuji Sakai (the ARROWS) and composed/arranged by Tomohiro Nakatsuchi (Remark Spirits). Taisei (Sharam Q), who produced Mano's 2008 indie debut single "My Piano," serves as the director of the recording. The CD release or digital distribution of the song is currently not planned.
The first chapter which consists of the episode 0 and 1 hits Japanese theaters on April 5, then followed by the second chapter (May 31), the third (July 12), the fourth (August 30), the fifth (October 18), the sixth
(November 29), and the seventh (January 10, 2015). The 100-minute feature film written/directed by
Mamoru Oshii will be released in Golden Week (between the end of April and the beginning of May) of 2015.
Erina Mano as Akira Izumino
"NEXT MY SELF" (13th/last single from Hello! Project released in December 2012)
The trailer for the chapter 1 (episode 0 &1)

Source: Natalie
© 2014 "THE NEXT GENERATION -PATLABOR-" Production Committee