Both men in girls school uniform looking very happy together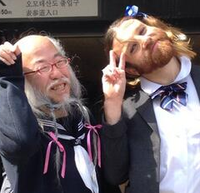 Hideaki Kobayashi is a 50-year-old normal Japanese male who became a viral sensation for wearing a girls school uniform, better known as Sailor Fuku Ojisan (Translation: Old dude in girls' sailor school uniform). Ladybeard is a hairy Australian who is a pro-wrestler, a heavy metal singer and an entertainer who is becoming better known in Japan recently because of his own crossdressing exploits. Both men were spotted together in girls school uniforms on a street and the photos prove that they are indeed Kawaii.
*Correction: Ladybeard is a current pro-wrestler, a heavy metal singer and an entertainer!
image from @GrowHair, Sailor Fuku Ojisan's official Twitter. Kobayashi is also known as GrowHair, a cosplay and doll photographer. He has an official site as well.
image via @sige1106
Kobayashi says that he is popular among Japanese high school girls and tourists and that is how it should be. He says to be popular, you don't have to be good looking or even be good, you just need to wear a sailor fuku.
image via Rocket News 24
As Rocket News 24 says, it gets better after around 1:40 to to hear his Kawaii-core performance. Japanese people seem to be taken by surprise because Ladybeard is capable of communicating with his fans in Japanese as well as Chinese, as you can see in the video and on his official Facebook page.
Is this miracle a coincidence? Apparently, Ladybeard announced that he will hang out with Sailor Fuku Ojisan to make people happy on this particular day in Japan, as you can see below in the post by Team Ladybeard.
Kobayashi once said in an interview that the reason he wears the sailor fuku is because it embodies what is Kawaii and he is curious if the Sailor fuku's kawaii-ness works on anyone who wears it. Do you think it's working? The photo certainly made me smile!
Source: Togech NAVER Rocket News 24