A la venta el 15 de mayo.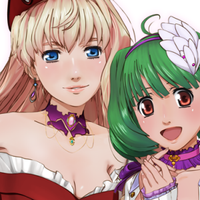 Namco Bandai ha colgado un vídeo promocional de cuatro minutos de la "Macross Frontier the Movie 30th d Shudisuta b Box", la cual se lanzará el día 15 de mayo e incluirá subtítulos en inglés. También nos dejan dos anuncios de 15 y 30 segundos. Los vídeos revelan que el contenido extra de los discos y del libro de ilustraciones ya anunciados, son el doble de lo que se había dicho anteriormente.
El set incluirá las películas Macross Frontier: Itsuwari no Utahime y Macross Frontier: Sayonara no Tsubasa en dos discos, así como una introducción a la primera película y una nueva escena final llamada "d Shudisuta b" para la segunda. La introducción ya pudo verse en cines con la primera película, pero hasta el momento no había sido incluida en ningún lanzamiento físico. La nueva secuencia final sin embargo, es completamente nueva.
El tercer disco del set será el "Project F Ultimate Hybrid Disc" que incluirá material nunca lanzado anteriormente: el "Macross Frontier the Movie Special Play View", el "Macross Frontier Video Historia" de más de 120 minutos de duración, el "Instructor Sheryl's 30th Anniversary Movie Document", "Super Galaxy-Class voice cast interviews" y el concierto virtual "Macross Frontier Super Dimension Super Live ~ PS Home kara Ai o Komete" desde nuevos ángulos de cámara. La función "Play View" requiere de una PlayStation 3.
El disco extra además incluirá material ya incluido anteriormente en otros lanzamientos como la serie de episodios cortos "Macross Intelligence Agency", varios anuncios relacionados con la franquicia, la entrevista anterior a la primera película en la que Shoji Kawamori explica la transformación del VF-25, o el informe de Megumi Nakajima de la primera película.
La caja también incluirá una colección de diseños y bocetos tamaño A-4 de Macross Frontier the Movie y otra con ilustraciones promocionales, siendo cada una de unas 100 páginas.
La versión en BD del set tendrá un precio de 16.800 yenes, mientras que la versión en DVD podrá conseguirse por 14.800 yenes.
Fuente: ANN