The ED theme song is performed by petit milady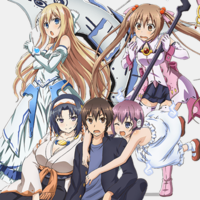 It is officially announced today that a TV anime adaptation of Takehaya's comedy light novel series Rokujyoma no Shinryakusha!? (Invaders of the Rokujyoma!?) is scheduled to premiere in this summer. The official site and Twitter account for the anime are also launched today. The series illustrated by Poco has published 15 volumes and two spin-off books from Hobby Japan's HJ Bunko label since March 2009. Rokujyoma means a six-tatami-mat room. The size of Japanese-style room is expressed by the number of tatami, so Rokujyoma is about 10m2.
The official site has already listed the main voice cast for the anime: Yuichi Nakamura, Tatsuhisa Suzuki, Aoi Yuki, Ayana Taketatsu, Eri Suzuki, Harumasa Ohmori, Masumi Tazawa, and Maria Naganawa. The characters they voice will be announced at Anime Japan 2014's Blue Stage on March 23. And it is also revealed two-member voice actress idol unit petit milady will perform the ED song.
The yet titled song will be released as their 3rd single in this summer. The two members of the unit,
Aoi Yuki and Ayana Taketatsu are in the voice cast.
The story of Invaders of the Rokujyoma!? centers on a high school student Koutaro Satomi. Due to his
father's unexpected job relocation, he moves to the room 106 of a 25-year-old apartment named
"Korona-sou" by himself. All of the past residents of the room couldn't stay so long, because they
encountered a ghost in the room. Koutaro has to fight for the right of residence of the room against
not just the ghost named Sanae Higashihongan, but also Yurika Nijino (magical girl), Kiriha=Kurano
(a descendant of the ancient underground people), and Theiamillis Gre Fortorthe (the 7th princess of
the Holy Fortorthe Galaxy Empire).
Anime key visual
The novel voume 1 cover (March 2009)
The novel voume 15 cover (February 2014)
via: Otasuke
© Takehaya, Hobby Japan/Korona-sou Kanti Kumiai