Anthology from "Akira" creator Katsuhiro Otomo features Oscar nominated "Possessions"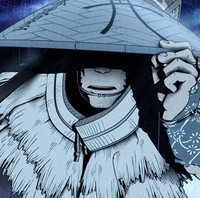 Eleven Arts and Sentai Filmworks have announced plans to bring Short Peace, a new omnibus film from Akira's director, Katsuhiro Otomo to North American theaters. The anime anthology consists of four short films, including this year's Academy Award nominated "Possessions" directed by Shuhei Morita.
Prior to the wide release, special screenings will be scheduled at thirteen locations across the US on Monday, March 3rd after the Oscar announcement on March 2nd. The majority of screenings in other cities are scheduled for April 2014. Screening information is available a ELEVEN ARTS' website.
Eleven Arts offer the pitch
In 1995, Katsuhiro Otomo's epic anthology
MEMORIES
showcased the work of upcoming superstars of the anime world. Now, Otomo's spotlight shifts to a fresh generation of visionaries with an all-new anthology of creative films: A lone traveler is confronted by unusual spirits in an abandoned shrine in the
2013 Academy Award® nominated
POSSESSIONS
(TSUKUMO), directed by Shuhei Morita (
COICENT, KAKURENBO
). A mysterious white bear defends the royal family from the predations of a red demon in the brutal
GAMBO
, adapted from REDLINE's Katsuhito Ishii's original story, and directed by Hiroaki Ando (
FIVE NUMBERS!
) with character designs by Yohiyuki Sadamoto (
NEON GENESIS EVANGELION
). The focus shifts from supernatural to science fiction for the action packed A FAREWELL TO ARMS (BUKI YO SARABA), as
MOBILE SUIT GUNDAM
designer Hajime Katoki helms Otomo's tour-de-force saga of men battling robotic tanks in apocalyptic Tokyo. Grandmaster Otomo himself assumes the directorial reigns for a spectacular tale of love, honor and firefighting in ancient Japan with the multi-award winning
COMBUSTIBLE
(HI-NO-YOUJIN). Prepare your senses for these animated films that are taking the critical world by storm, and watch as a new era in anime is ushered in with Katsuhiro Otomo's
SHORT PEACE
!
Special Screening Schedule
State
City
Theater
Date
Address
Ticket link
CA
Bakersfield
Valley Plaza 16
Mar 3 @ 7:00 pm
2000 Wible Road.
Bakersfield, CA 93304
TBA
CA
Los Angeles
Downtown Independent
TBA
251 S. Main Street
Los Angeles, CA 90012
TBA
CA
Murrieta
Cal Oaks 17
Mar 3 @ 7:00 pm
41090 California Oaks Rd
Murrieta, CA 92562
TBA
CA
Rohnert Park
Rohnert Park 16
Mar 3 @ 7:00 pm
555 Rohnert Park Expressway West
Rohnert Park, CA 94928
TBA
CA
Sacramento
Tower Theater
Mar 3 @ 7:00 pm
2508 Land Pk. Dr.
Sacramento, CA 95818
TBA
CA
San Diego
Gaslamp 15
Mar 3 @ 7:00 pm
701 5th Avenue
San Diego, CA 92101
TBA
HI
Honolulu
Ward Stadium 16
Mar 3 @ 7:00 pm
1044 Auahi St
Honolulu, HI 96814
TBA
HI
Kahului
Kaahumanu 6
Mar 3 @ 7:00 pm
275 W. Kaahumanu Ave,
Kahului, HI 96732
TBA
NJ
Manville
Manville 12 Plex
Mar 3 @ 7:00 pm
180 N Main Street Manville,
NJ 08835
TBA
NY
New York
Village East Cinema
Mar 3 @ 7:00 pm
181 – 189 2nd Ave
New York, NY 10012
TBA
TX
Dallas
Angelika Film Center & Café – Dallas
Mar 3 @ 7:00 pm
5321 East Mockingbird Lane, Suite 230
Dallas, TX 75206
TBA
TX
Plano
Angelika Film Center & Café – Plano
Mar 3 @ 7:00 pm
7205 Bishop Rd. Suite E6
Plano, TX 75024
TBA
VA
Fairfax
Angelika Film Center & Café – Mosaic
Mar 3 @ 7:00 pm
2911 District Ave
Fairfax , VA 22031
TBA


-------
Scott Green is editor and reporter for anime and manga at geek entertainment site Ain't It Cool News. Follow him on Twitter at@aicnanime.