New idol songs and the title revealed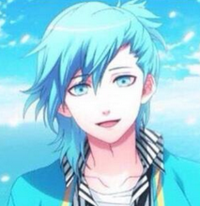 Thousands of Japanese Uta No Prince Sama fans watched the limited time official Twitter accounts post their last tweet made a few hours ago to end the 4-month social event and it was a smiling "See ya!" instead of a teary goodbye. It's sad not seeing the Prince posts such as Masato reporting his Miso soup ingredients in the mornings, but there is no time to be sad as more details of the sequel to the otome game were also announced. The sequel to Uta No Prince Sama All Star is titled All Star After Secret and it will continue the stories that began in All Star with 4 of the senior idols.
Uta No Prince Sama All Star After Secret will have 2 endings for each of the 4 senior idols of Quartet Night (Reiji, Camus, Ai and Ranmaru) and individual episodes with each of the 7 junior idols. Although the game's release date is not announced yet, 4 idols from Quartet Night will each release 2 solo songs which will be used in the game starting in April with Reiji and 2 new songs as a group to be released in August.
Reiji Kotobuki Idol Song solo CD (Relase 4/30/14)
Itoshiki Hito E
Kiss Wa Wink De
Itoshiki Hito E *off vocal
Kiss Wa Wink De *off vocal
Ranmaru Kurosaki Idol Song solo CD (Release 5/28/14)
Not Bad
WILD SOUL
Not Bad *off vocal
WILD SOUL *off vocal
Ai Mikaze Idol Song solo CD (Release 6/25/14)
A.I
Futari No Monogram
A.I *off vocal
Futari No Monogram *off vocal
Camus Idol Song solo CD (Release 7/30/14)
Junketsu Naru Ai -Aspiration-
AURORA
Junketsu Naru Ai -Aspiration- *off vocal
AURORA *off vocal
Uta No Prince Sama Quartet Idol Song single CD (Release 8/27/14)
Marriage
You're my life
Marriage *off vocal
You're my life *off vocal
The social event that lasted 4 months with each prince tweeting from their official Twitter account was a part of a promotion for the franchise's spin-off drama CD series Shining Theatre Troupe and the last release from the project in Joker Trap landed on the #1 spot in the Oricon Album Daily Ranking chart on February 27th in Japan.
March 1st is also the birthday of Ai Mikaze! As soon as the princes said see you to their fans on Twitter, birthday wishes to Ai flooded my own timeline.
©早乙女学園  協力:シャイニング事務所  Illust.倉花千夏、工画堂スタジオ