Anime tie-in recognized as crappiest of the crap games of 2013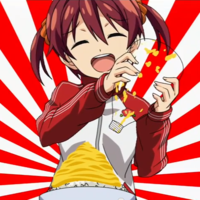 Anime might have been shut down at the Oscars, but did receive some recognition last week. Unfortunately, it's a dubious one. The wisdom of the crowds at Kusoge of the Year Wiki has granted Vividred Operation: Hyper Intimate Power and tie-in mini game, Vividred Operation: Akane and the Mayo Operation the Japanese message board infamous title of Kusoge of the Year 2013.
"Kusoge" combines "kuso" or "crap" and "ge" as in "game" to form a neologism used for referring to lousy games.
The game of the year award is selected from 2ch kurosage reviews of the year's mainstream releases. Indie are exempt. Mobile games have their own awards. And the games are supposed to be actively bad and not just boring.
For the 2013 dishonor of crappiest of the crap, the tie-ins to original anime Vividred Operation beat out Heavy Fire Shattered Spear, Double Dragon II: Wander Of The Dragons, Air Conflicts Vietnam and Gaiabreaker.
Vividred Operation: Hyper Intimate Power was released for PS3 via digital download in June for 5,500 yen (8,500 yen for a limited edition). Both its adventure game and 3D flight combat elements were dinged by kusoge haters. The former was perfunctory, bringing nothing to enhance the anime. The latter is unvaried and broken. There was little difference between characters. It was difficult to judge the distance to the enemy. And, worst of all, the player could only move horizontally, while their adversaries could move both vertically and horizontally.
Akane and the Mayo Operation doesn't fit the Kusoge of the Year criteria, but is was judged to be such a disaster that the 300yen ostensible "puzzle game" deserved special mention.
------
Scott Green is editor and reporter for anime and manga at geek entertainment site Ain't It Cool News. Follow him on Twitter at @aicnanime.