With Hiroyuki Yoshino and Hiroki Yasumoto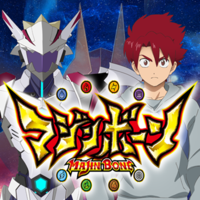 The official website for the April 2014 TV anime Majin Bone produced by Toei Animation for TV Tokyo has announced its four main voice cast and posted the first promotional video today. The TV anime is based on Bandai's digital card game of the same name using its arcade machine Data Carddass. KENN, who is best known as the voice of Judai Yuki in Yu-Gi-Oh! Duel Monsters GX will voice the protagonist boy Shougo Ryujin/Dragonbone, while Shinnosuke Tachibana will play a cool and quite leader Luke/Sharkbone with Hiroyuki Yoshino (Antonio/Jaguarbone) and Hiroki Yasumoto (Tyrone/Rhinobone).
Shougo Ryujin was an ordinary first grade high school student until the day he was attacked by Dark Bone who were looking for Bone Cards. Shougo and his three comrades transform into Bone Fighters using the Bone Cards for the fate of the earth. Yusuke Murata, the artist of the Eyeshield 21 manga,
serves as the original character designer for the anime. It will premiere on TV Tokyo and its affiliates
on April 1.
Anime key visual
"Majin Bone" Data Carddass
Source: Majin Bone anime official site, press release
© Bandai, Toei Animation, TV Tokyo