Promoting upcoming film and to celebrate 80th birthday of the author, Fujiko F Fujio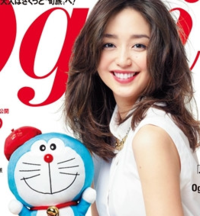 As long as he's been around in some form of media, Doraemon has made the cover of countless magazines and books over the years in Japan. Now, he'll be on 51 magazine covers published by Shogakukan which total 700,000 copies in circulation between February 15th to April 7th in Japan. This Doraemon On Cover promotion is for the upcoming film, Doraemon: New Nobita's Great Demon ~Peko and the Exploration Party of Five~ which will open this weekend in Japan and will also to celebrate the 80th birthday of the author, Fujiko F Fujio.
Shogakukan has a total of 51 magazines ranging from comic, fashion, educational and informational to name a few and all of them will have Doraemon on the cover in one way or another for a few months for the promotion.
image via Corocoro.tv
March issue of Corocoro Comic was the first to feature the cat robot on the cover.
Image via Oggi official
Then on to a fashion magazine, Oggi April issue.
Image via My Navi News
Then on the cover of DIME Magazine to be released on March 15th.
image via My Navi News
On the cover of Cheese comic magazine, Doraemon is doing a collaboration with the manga, Kanojo Wa Uso O Aishisugiteru, which won the prestigious Shogakukan Manga Award in the Shojo category.
You can see the covers of all the 51 magazines which will be a part of the Doraemon On Cover promotion. It will be interesting to see how Doraemon will be incorporated on the cover of Waraku magazine for Japanese culture and art because the magazine seldom has a model on the cover, but often features Japanese traditional art and scenery.
Source: My Navi News
(C)藤子プロ・小学館・テレビ朝日・シンエイ・ADK2014 © Shogakukan Inc. 2014 All rights reserved.