A new announcement will be made on March 20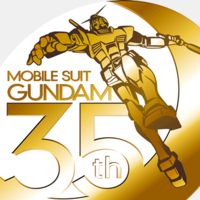 A new portal site for the 35th anniversary of Sunrise's Mobile Suit Gundam series launched today. The first TV anime series Mobile Suit Gundam started airing in Japan on April 7, 1979. While not much information is revealed, the tagline on the site says, "Rise! The World is Moving." And a video screen shows "Coming Soon: March 20th, 2014 5PM, ON LIVE." It means a new announcement related to the Gundam series will be broadcasted online at 5:00 pm, March 20 (JST), 1:00 am, March 20 (PST).
What can you expect for this March 20 announcement? The long-awaited Gundam: The Origin anime series? A new OVA series following the very successful Gundam Unicorn, such as Hathaway's Flash or Crossbone Gundam? Yoshiyuki Tomino's new anime (G-Reko or collaboration project with Legacy Effects)? Bandai confirmed back in July 2013 that Tomino's newest anime work will be released as a part of the 35th anniversary of the Gundam franchise in 2014 to 2015 and the anime adaptation of
Gundam: The Origin will be also released around the same time.
via: Tower Records
© SOTSU・SUNRISE