Mixed media project first launched in Fall 2011 to revive obscure characters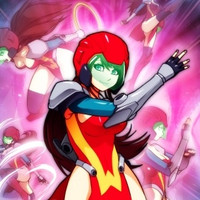 After first being launched in the Fall of 2011 as a webcomic anthology meant to revive some of the more obscure and nearly forgotten video game characters in Namco Bandai's storied past, the latest Shifty Look newsletter has announced that as of March 20th, Shifty Look will end its webcomic anthology along with ending active updates to its website and its forums will be shut down on the same day, with servers for the site staying online until September 30th.
The Bravoman mobile game "Binja Bash" will cease allowing in-app purchases as of Saturday March 16th, with the app being pulled after March 30th. Access to the Namco High web-based visual novel game will continue to be sold through Crunchyroll through March 28th, with servers closing on June 30th.
The individual Shifty Look collaboaration releases will continue to be released as normal, such as the Wonder Momo anime and video game; Bravoman, Galaga, Wonder Momo and Katamari books from Udon Entertainment as well as already licensed apparel, plush toys and Galaga/Katamari home accent throw rugs from Squishable. The Wonder Momo video game will be released through select Android consoles and PC/Mac, with no additional purchase requirements.
While this does mark the end of the initiative itself, one can say that it did what it was meant to do, which is revive nearly forgotten characters for a new generation and to great fanfare, as evidenced by the popularity of Bravoman and Wonder Momo. I wish everyone involved in ShiftyLook best of luck in their future endeavors.
---
Humberto Saabedra is the Owner of AnimeNews.biz, Editor-in-Chief of PhoneNews.com and a part-time recording engineer. He can also be found musing on things (and Nico Robin) at @AnimeNewsdotbiz