Kaito Ishikawa (Ledo in Gargantia on the Verdurous Planet) voices Pegasus Seiya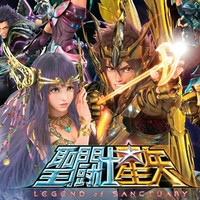 Following the announcement for the voice cast, the official site for the highly-anticipated full CG film Saint Seiya: LEGEND of SANCTUARY is updated today with a new poster visual featuring the protagonist Seiya wearing the Gold Cloth of Sagittarius. The tagline says, "Burn, Cosmo." He occasionally wears the Gold Cloth in desperate situations in the original series. The site has also posted a full trailer for the film in its movie section (as well as the teaser, the video is not embeddable).
The advance ticket with a two-type clear file (Bronze ver. or Gold ver.) has already been available in Japanese theaters since March 8. The full CG film adaptation of Masami Kurumada's popular manga series directed by Keiichi Sato (Tiger & Bunny, Asura) will be released in Japan on June 21.
The official poster visual
The clear files come with advance ticket
The teaser poster visual
via: My Navi News, Walker Plus
© Masami Kurumada/"Saint Seiya" Production Committee