Best known as Yoshimune Tokugawa in "Abarenbo Shogun"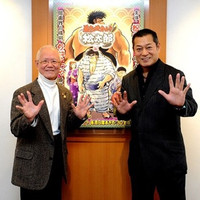 It is confirmed today that 60-year-old actor Ken Matsudaira voices Matsutaro Sakaguchi, the protagonist character of the 2014 April TV anime Abarenbo Rikishi!! Matsutaro (The bold sumo wrestler Matsutaro). The anime is based on 75-year-old artist Tetsuya Chiba's classic sumo manga Notari Matsutaro published in 1973-1998. The TV anime produced by Toei Animation (Dragon Ball, One Piece, PreCure) will premiere on TV Asahi and its affiliates on April 6. This is the second anime adaptation after the 3-episode OVA series in 1990-1991.
Matsudaira is best known as Yoshimune Tokugawa, the eighth shogun of the Tokugawa shogunate in the long-running jidaigeki TV series Abarenbo Shogun (1978-). He even appeared as Yoshimune in the 2011 tokusatsu film Kamen Rider OOO Wonderful: The Shogun and the 21 Core Medals. As a voice actor, he previously played Mikoshi Nyudo in Tofu Kozou (2011) and Inspector Mustard in Doraemon:
Nobita no Himitsu Dōgu Museum (2013).
Ken Matsudaira
As Yoshimune in Kamen Rider OOO Wonderful: The Shogun and the 21 Core Medals
© Ishimori Pro, TV Asahi, ADK, Toei
"Abarenbo Rikishi Matsutaro" visuals
via: Natalie
© Tetsuya Chiba/TV Asahi, Toei Animation