Behind-the-scenes footage of the music video for BUMP OF CHICKEN feat. HATSUNE MIKU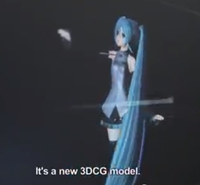 The Official Hatsune Miku You Tube channel has posted the first installment of its new documentary series that takes a closer look at the technology behind Hatsune Miku. The eight and a half minute documentary captures behind-the-scenes footage of Miku's music video where a real musician (not appearing in the documentary, but it's BUMP OF CHICKEN) and the virtual idol to perform together in real time, which is the first in the world to be filmed. The video is also subtitled in English for non-Japanese speakers.
The music video in question is Ray by BUMP OF CHICKEN feat. HATSUNE MIKU. Below is the BUMP solo version of the video.
Ray is included on the band's 7th album, RAY, released on March 12th in Japan. The MIKU version is already released in Japan and the final music video will be posted on the band's official site later, although the date has not been announced yet.
To sample the duet, go to the Recochoku site and locate a button with a headphone on lower left next to the button with a heart icon.
Source: Natalie
© Crypton Future Media, INC.