10,000 otaku females in Japan voted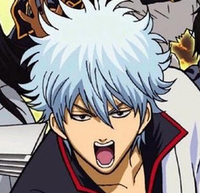 Japanese anime portal site Charapedia recently asked 10,000 female otaku internet users which anime character they would like to have as their boyfriend and the results are in! These results reflect the vote of people who consider themselves otaku and the results may surprise you.
#1 Gintoki Sakata from Gintama 261
#5 Shinsuke Takasugi from Gintama 129
#6 Toshiro Hijikata from Gintama 128
#7 Hajime Saito from Hakuoki - Shinsengumi Kitan- and Sogo Okita from Gintama 125
#9 Ryota Kise from Kuroko's Basketball 108
#10 Makoto Tachibana from Free! 107
Gintama's wide popularity managed to get 4 characters in the top 10 including, Gintoki landing at the #1 anime boyfriend spot (where is Katsura??). Anyone suprised that the highest ranking ball player from Kuroko's Basketball was not Kuroko or any of Generation of Miracle member but Hawk Eye Takao? He is often described as "HSK" in Japan, which is a short for "High Spec Kareshi (Kareshi is boyfriend in Japanese)" and many fans see a lot of boyfriend potential in his devoted supporting style he displays with Midorima.
The strongest of the humankind, Levi landed in the third spot, while 2 characters from Hakuouki made it in the top 10 and the anime has the second film at the theaters in Japan right now. There are many many characters that received votes, but didn't make top 10 which shows the diversity of tastes in the community. Who would you vote for? Come back later tonight for Top 10 Anime Boyfriend poll result!