Top 10 anime girlfriends voted on by 10,000 Japanese male otaku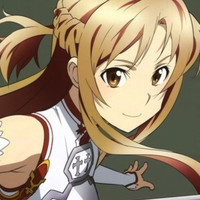 We saw the top 10 anime boyfriend poll earlier and now, here are the top 10 female anime characters Japanese male otaku voted on as their dream girlfriend for White Day tomorrow! Charapedia recently posted the results of their online survey and the results reflect votes from otaku. About 70% of the online votes were made by males in their teens~20s and the rest are from over 30s.
#3 Mikoto Misaka from Railgun series 129
#4 Kosaki Onodera from Nisekoi 128
#5 Eru Chitanda from Hyouka 113
#6 Hitagi Senjogahara from Monogatari series 105
#7 Ayase Aragaki from Oreimo 104
#8 Tsubasa Hanekawa from Monogatari series 90
Asuna, undisputed current queen of anime wives received 363 votes to get the #1 spot, while Charlotte managed to rank #2 out of all the heroines in Inifinite Stratos and Biribiri saved the third spot, being the only heroine out of the Certain Magical franchise. For the rest, it's black-haired characters galore with the exception of Hitagi, with dark purple hair. Who would you vote for as your anime girlfriend?