Previously launched eight day countdown meant to end during AnimeJapan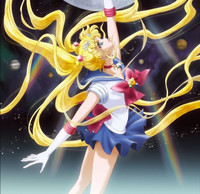 With the anticipation around the Summer's planned stream of the long-awaited new Sailor Moon animated series adaptation, the attempts to build hype with a countdown earlier on Thursday were well-intentioned, but backfired horribly when it was discovered that the site hosting the countdown held all of the important files that weren't meant to be revealed until the end of the planned countdown. What was so important that had to be kept under wraps for eight days were it not for the tireless sleuthing of the internet?
The English translation of the key image is below, from Miss Dream (mind the typos):
As can be seen, the key art features the previously announced staff for the adaptation as well as the date for the premiere and theme song artist as well as the series synopsis. Now that we've seen what the first key image looks like, any bets on what else we'll find out in the coming days before and during AnimeJapan?
---
Humberto Saabedra is the Owner of AnimeNews.biz, Editor-in-Chief of PhoneNews.com and a part-time recording engineer. He can also be found musing on things (and Nico Robin) at @AnimeNewsdotbiz