On sale in August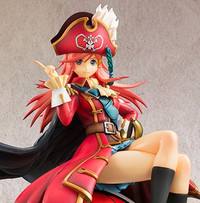 Figure and toy company MegaHouse will be releasing a 1/8th scale figure of "Bodacious Space Pirates" main character Marika Kato dressed in her red outfit from the recently-released film adaptation of the anime series.
Based on a series of light novels by Yuichi Sasamoto, a film adaptation of anime series "Bodacious Space Pirates", titled "Bodacious Space Pirates: Abyss of Hyperspace", was released in Japan on February 15th. The series and film tell the story of girls' high school student Marika Kato and her adventures following in the footsteps of her deceased father by captaining the space pirate ship Bentenmaru.
The figure, produced under the supervision of animation character designer Akiman and director Tatsuo Sato, depicts main character Marika Kato sitting atop a reproduction of her ship's pirate flag, posing with her trademark blend of confidence and cuteness. Dressed in her red outfit from the anime film, Marika's hat is also removable. According to its creators, the figure was designed to appeal to fans of the series and figure fans alike.
The figure retails for 9,800 yen, plus tax. It will be released in mid-August.
Links:
"Bodacious Space Pirates: Abyss of Hyperspace" Marika Kato Figure
Bodacious Space Pirates: Abyss of Hyperspace