Featuring her husband Hideaki Anno, the director of Evangelion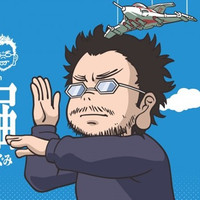 It is officially announced today that a 13-episode TV anime adaptation of Moyoco Anno's autobiographical essay manga Kantoku Fuyuki Todoki is set for April 3 premiere in TV Tokyo's anime support program AniMusu!. The manga was serialised in Shodensha's Feel Young from April 2002 to December 2004 and the one-volume tankobon was published in February 2005. It focuses on Moyoco Anno's married life with her husband Hideaki Anno, who is best known as the director of the Evangelion anime series and also a deep otaku. Kantoku Fuyuki Todoki is translated as "Insufficient Direction" in Japanese, but of course it has a double meaning with Anno Hideaki's profession, kantoku (film director).
The three-minute Flash anime short series is produced by DLE (Eagle Talon, Thermae Romae). The
two Evangelion-related veteran voice actor/actress join the anime; Kouichi Yamadera (Ryoji Kaji) plays
Kantoku-kun/Hideaki Anno with Megumi Hayashibara (Rei Ayanami) as Rompers/Moyoco Anno.
Unfortunately (?), Hideaki Anno, who already made his voice acting debut in Hayao Miyazaki's The Wind
Rises last year, didn't want to voice himself this time, and chose Yamadera instead. Six member idol group
AOP will cover Kantoku-kun and Rompers' recommended anime/tokusatsu songs for each week's ED section.
Key visual
Rompers and Kantoku-kun
Kouichi Yamadera and Megumi Hayashibara
AOP
Source: press release
© "Kantoku Fuyuki Todoki" Production Committee