You can work with your favorite voice actor's character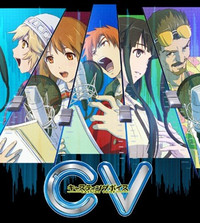 The official site for Namco Bandai's upcoming PS3 game CV~Casting Voice~ has posted the first TV CM featuring the voice samples by Ayana Taketatsu, Tsubasa Yonaga, and Miyuki Sawashiro. More than 40 popular anime voice actors/actresses will join this management game. As a seiyu/voice actor producer, the player holds casting calls to choose the best actors/actresses for anime and drama, and also supervises the voice recording sessions. The scheduled release day is June 19. The site is now listing the following voice actors/actresses:
Ayana Taketatsu as Saaya Uchiyama
Kikuko Inoue as Kumiko Tojo
Tsubasa Yonaga as Yukihiko Himeno
Shigeru Chiba as Takashi Michiba
Kensho Ono as Kengo Touno
Miyuki Sawashiro as Saori Ogiwara
Tetsuya Kakihara as Ryujin Gloeden
Houchu Otsuka as Atsuo Onuki
Kumiko Nishihara as Nanko Wakasugi
Kaori Nazuka as Sayaka Fujinomiya
Mariya Ise as Ruri Furukawa
Kanae Ito as MOMO
Takashi Kondo as Kousuke Hibiki
Kenji Nojima as Daisuke Nakamikado
Noriko Hidaka as Hana Shigino
Yuji Mitsuya as Yoshiaki Sugawara
First limited edition only characters:
Nobunaga Shimazaki as Kyoya Garyuin
Rie Tanaka as Mirei Saiguji
via: Otasuke
© NAMCO BANDAI Games Inc.
Screenshots from Amazon JP