Poll also asked for fans to name top tear-jerkers, top anime to show to your kids and anime with most memorable villains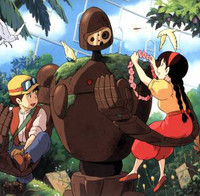 2013 was a landmark year for anime as the industry celebrated the 50th anniversary of the first Japanese-produced animated TV series, Astro Boy. In that time, the number of productions grew from 6 in a year to 222 in 2012.
Anime's high profile presence in the Japanese media landscape also saw The Wind Rises take the #1 spot in the movie theater box office with 13 billion yen in ticket sales. Doraemon, Detective Conan, Lupin III versus Conan and Pokémon likewise crowded into the top 10. Even the performance of the Attack on Titan theme at the New Year's widely watched Ko-haku Utagassen concert was testament to anime's standing.
Nikkei (Japan Economy News) Entertainment took this opportunity to poll readers on which anime they feel deserve to pass the test of time and be shared with future generations.
The magazine asked 1000 people age from 25~54. Its editors were aiming to reflect a range of anime from its early goings in the 60s through baby-boom 70s and the rising Japanese entertainment industry in the 80s, and the well-remembered shows that served as the foundations for current trends.
Nikkei editors selected 200 influential shows out of all shows produced in the period between 1960's - 1990's, including TV anime, OVAs and anime films. Total of 1000 Nikkei BP Consulting Survey Monitors, both males and females from the group of 25-34, 35-44, 45-54 years old answered the online survey between 12/11/13 - 12/18/13).
The resulting ranked selections included:
1. Mobile Suit Gundam
2. Dragon Ball
3. Totoro
4. Space Battleship Yamato
5. Laputa
6. Doraemon
7. Lupin the Third 2nd season
8. Sazae-san, Galaxy Express 999
10. City Hunter
10. Evangelion
12. One Piece
13. Lupin the Third: The Castle of Cagliostro
13. SLAM DUNK
15. Heidi, Girl of the Alps
15. Nausicaä of the Valley of the Wind
17. Folktales from Japan
17. Touch
19. Fist of the North Star
20. Kiki's Delivery Service
20. YuYu Hakusho
20. Case Closed
23. Sally the Witch
24. Candy Candy
24. GHOST IN THE SHELL
26 Cowboy Bebop
27. Future Boy Conan
28. Chibi Maruko-chan
29. The Rose of Versailles
29. Sailor Moon
31. Star Of The Giants
31. Cyborg 009
31. Ashita no Joe
31. Time Bokan Series Yatterman
31. Dr. Slump
31. Urusei Yatsura
37. Haikara-san ga Tōru
37. Cat's Eye
39. Astro Boy
39. Dog of Flanders
39. Crayon Shin-chan
42. GeGeGe no Kitarō
42. Yōkai Ningen Bem
42. Rurouni Kenshin
45. Tiger Mask
45. The Genie Family
45. Maison Ikkoku
45. Legend of the Galactic Heroes
49. Obake no Q-tarō
49. Initial D
The poll also asked about:

Top 10 tear-jerkers
1. Dog of Flanders
2. Grave of the Fireflies
3. 3000 Leagues in Search of Mother
4. The Adventures of Hutch the Honeybee
5. One Piece
6. Nausicaä of the Valley of the Wind
7. Castle In The Sky
8. Heidi, Girl of the Alps
9. Doraemon
10. Barefoot Gen
Runners up: Space Battleship Yamato, Galaxy Express 999
Top 10 anime you want to show your kids
1. Folktales from Japan
2. Doraemon
3. My Neighbor Totoro
4. Sazae-san
5. Castle In The Sky
6. One Piece
7. Heidi, Girl of the Alps
8. Nausicaä of the Valley of the Wind
9. Soreike! Anpanman
10. Jungle Emperor Kimba
Runner up: Ikkyū-san

Top 10 anime with most memorable villains
1. Time Bokan Series Yatterman
2. Space Battleship Yamato
3. Dragon Ball
4. Mobile Suit Gundam
5. Fist of the North Star
6. Castle in the Sky
7. Science Ninja Team Gatchaman
8. Soreike! Anpanman
9. Tiger Mask
10. Ganba no Bōken
Runners up: GeGeGe no Kitarō, Ganba no Bōken, Candy Candy
-------
Scott Green is editor and reporter for anime and manga at geek entertainment site Ain't It Cool News. Follow him on Twitter at @aicnanime.