Live-action drama simulcast kicks off March 22 at 7:30pm PDT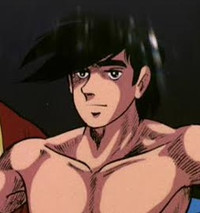 Crunchyroll had a couple fresh announcements to make during today's Anime Boston panel, including a mix of classic anime and a drama simulcast. The former is Champion Joe 2 (Ashita no Joe 2) and the latter is none other than GTO Taiwan.
Champion Joe 2 is set to arrive on Monday, March 24 at 3:00pm PDT. Premium members will be able to stream all episodes, while free members will get 7 episodes per week.
The series will be available to stream in North America, Central and South America including the Caribbean, South Africa, Australia, and New Zealand.
Synopsis:
Joe, one of the top ranked boxers in the world, no longer has the yearning or desire to enter the ring again after killing his previous opponent by landing a wicked left jab to his temple. His confidence and competitive spirit is restored when he decides to overcome his fear by facing the uncrowned king from Venezuela, Carlos Rivera.
However, the many years of boxing begin to take a toll on Joe as he gradually becomes weaker with each match. Although symptoms of his decline become evident to those around him, Joe is unaware of his conditions until his final match.
Joe's girlfriend becomes worried that his continued bouts in the ring will further destroy the health of this fighting legend and she tries to persuade him to quit boxing. Being a stubborn and determined man, Joe rejects the notion of retiring even from the love of his life.
Joe has it set in his mind to become the champion of the world and he decides to face the reigning champ, Jose Mendosa in what becomes the fight of the century.
GTO Taiwan's first episode debuts today at 7:30pm PDT. The second episode will be available for premium members shortly after at 8pm PDT. Free members will be able to catch episodes one week later.
GTO Taiwan will be available to stream in the USA, Canada, South Africa, Central and South America (including the Caribbean), Europe (including French-speaking and German-speaking world, but excluding Russia), Australia, and New Zealand.
Synopsis:
Based off of the original manga by Tohru Fujisawa, GTO Taiwan is an original live-action special featuring the same cast as the 2012 live-action series, with singer/dancer from EXILE, Akira as the titular lead. GTO's main plot focuses on ex gang member turned teacher, Eikichi Onizuka, whose unorthodox ways of teaching his students actually manages to reach and successfully educate his students.
The 4-episode special was shot entirely in Taiwan, with dialogue in both Japanese and Mandarin Chinese. Cast members include Yuu Shirota as Onizuka's friend Ryuji Danma, and Yusuke Yamamoto as Onizuka's policeman friend, Toshiyuki Saejima. Taiwanese talent are also cast in the series, including Genie Chuo as a female teacher, and members of the Taiwanese boy band, SpeXial, also join the cast.
-------
Joseph Luster is the Games and Web editor at Otaku USA Magazine. His blog can be found at subhumanzoids. Follow him on Twitter at @Moldilox.