The final ranking was announced March 27th in Japan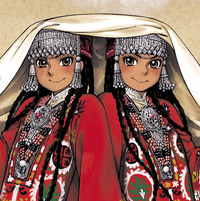 I previously reported on the list of the 10 nominees of the Manga Award 2014 in late January, and now the final results are in! The 10 pre-selected manga that people most like to recommend to others have been ranked by popular vote. Just as previous Manga Award winners Chihayafuru (2009) and Silver Spoon (2012), the winning manga will receive a substantial promotional push from booksellers in Japan.
#1 Otoyomegatari (The Bride's Story) 94 points

By Kaoru Mori
A heartwarming family manga set in late 19th century central Asia with demanding natural conditions attracts readers with detailed illustrations conveying the atomosphere of the tribe and its trials and tribulations.
The above illustration by the author upon receiving the honor explains the location that the story takes place in, which is Central Asia.
#2 Boku Dake Ga Inai Machi (The Town Where Only I Don't Exist) 82 points

By Kei Sanbe
The main character who is a mangaka, comes across an unusual situation where time gets reversed and the story details his struggles trying to save people and getting involved into another case.
#3 Sayonara, Tama-chan (Goodbye, My Ball-chan) 66 points

By Kazuyoshi Takeda
Takeda was an assistant artist under GANTZ author Hiroya Oku's studio when he was diagnosed with testicular cancer. He then turned his experience of losing one testicle and his life under treatment in this family drama manga.
By

Nakaba Suzuki
This fantasy masterpiece is available on Crunchyroll Manga. Check it out yourself!
#5 Hikidashi Ni Terrarium (The Terrarium In The Drawer) 54 points

By Ryoko Kui
The manga contains 33 independent short manga and showcases an impressive array of styles the author is capable of.
#6 Juban Shuttai! (Second Edition Done!) 46 points

By Naoko Mazda
This popular occupational manga illustrates people in the backgorund of the whole manga industry.
#7 One-Punch Man 43 points

Original story by ONE, Manga by Yusuke Murata
Famous Hero Action web-manga gets turned into a massively popular comic.
#8 Ajin 32 points

By Gamon Sakurai
The story of this mystery manga evolves around the Ajin breed, or an immortal demi-human breed found in Africa 17 years ago. The main character discovers that he himself is Ajin after being involved in a fatal accident that did not kill him. This one has been licensed by Vertical Inc. and will be released later this Fall, while Crunchyroll is offering the series as new chapters are released through Crunchyroll Manga.
#9 Ashizuri Suizokukan (Ashizuri Aquarium) 31 points

By panpanya
A combined re-issue of a collection of short manga originally released in 2010 and the handmade art/manga book ASOVACE in 2011 by Japanese dojin artist panpanya. It includes illustrations and travel essays besides short manga.
#10 Sakamoto Desuga? (I am Sakamoto, so?) 9 points

By Nami Sano
This manga about the stylish and cool high school student Sakamoto will give readers abdomens some serious workouts with his elegant comedy.
Source: Anime Anime
Copyright© 2013 Mangataisho.com All Rights Reserved.