Directed by Hideki Araki (Rurouni Kenshin, Sket Dance animation director)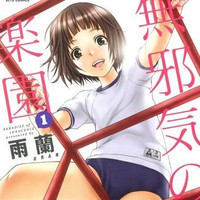 Japanese publisher Hakusensha announced on March 27 that the special edition of the upcoming 6th volume of Uran's erotic comedy manga Mujyaki no Rakuen/Paradise of Innocence will bundle a DVD containing a newly-produced OVA episode. The volume is scheduled to be released in Japan on August 29 and the pre-order deadline is July 2. The price for the special edition with the OVA is 3,980 yen (about US$38.95). The OVA is directed by Hideki Araki, who has mainly worked on straight-to-DVD adult anime, while also serving as an animation director for Inuyasha, Initial D Fourth Stage, Sket Dance, and the 1997 feature film Rurouni Kenshin: The Motion Picture.
The manga has been serialized in Hakusensha's Young Animal Arashi since May 2010 and so far five tankobon volumes have been released. The story centers on a 25-year-old unemployed man Shota Handa. After falling into a pool of his elementary school at the night the class reunion was held, he finds
himself travelling back to his elementary school days. But he still keeps his 25-year-old memory in
his fifth grade body. The manga illustrates various erotic situations in his new elementary school life
with attractive and tempting classmate girls. The OVA will be made as an all-aged anime.
The announcement for the OVA
Anime character references
The manga volume 1&2
The manga volume 3&4
The manga volume 5
via: Comic Natalie
© Uran/Hakusensha