Releasing 23 singles and 8 albums in her 18-year singer career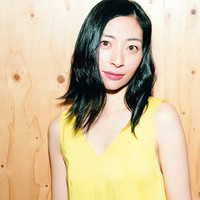 On today March 31, popular anime voice actress/singer Maaya Sakamoto celebrates her 34th birthday! She was born in Itabashi Ward, Tokyo, on March 31, 1980. When she was only 8 in 1988, she made her voice actress debut for the Japanese dub of Dana in the American TV drama series Our House. She is now well-known as the Japanese dub voice of Natalie Portman.
Her first protagonist role in anime was Chifuru in the 1992 OVA Little Twins (later re-edited as a TV series). But most of anime fans recognized her first in Sunrise's 1996 TV anime series The Vision of Escaflowne. She voiced the protagonist character Hitomi Kanzaki and also made her singer debut with the theme song for the show "Yakusoku wa Iranai" composed/arranged by her long-time companion Yoko Kanno.
So far she has released 23 singles and 8 original albums. Her biggest hit song in the charts was 15th
single "Triangler," the OP theme for the 2008 TV anime series Macross Frontier. It was released on April
23, 2008 and got a very good 3rd place in the Oricon weekly single ranking in its first week. What is your
most favorite song of hers? As a voice actress, she will play Moko in Captain Earth, the April 2014 robot
anime produced by Bones.
Maaya Sakamoto © FlyingDog,Inc.
PV collection
(courtesy of Maaya Sakamoto official YouTube channel)
15th single "Triangler" (April 23, 2008)
16th single "Ame ga Furu" (October 29, 2008)
"everywhere" from her 1st best album of the same name (March 31, 2010)
19th single "Buddy" (October 19, 2011)
20th single "Okaerinasai" (October 26, 2011)
"Sayonara Santa" from her 3ed concept album "Driving in the silence" (November 9, 2011)
21st single "More Than Words" (July 25, 2012)
22nd single "Hajimari no Umi" (July 31, 2013)
23rd single "Be mine!" (February 5, 2014)