The moviegoers will receive Akira Izumino's business card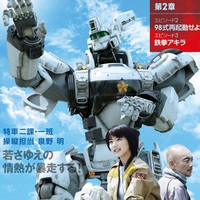 The official poster visual for the second chapter (episode 2 and 3) of the upcoming Mobile Police Patlabor live-action project titled The Next Generation -Patlabor- is revealed to the Japanese media today. It features AV-98 Ingram, Erina Mano as Akira Izuninom who is the forward pilot of Ingram no. 1, and veteran actor Naoto Takenaka as the strongest gamer oyaji (middle-aged man) who appears in the third episode "Tekken Akira." 58-year-old Takenaka previously voiced Shigeki Arakawa in Mamoru Oshii's 1993 film Patlabor 2: The Movie (and Kim in Innocence, Master in The Sky Crawlers).
The first chapter which consists the episode 0 and 1 hits theaters on April 5, then followed by the second chapter on May 31. The moviegoers who go to see the first chapter in its first week will receive a business card of Akira Izumino. You can hear a conversation between the third generation members of the Police Special Vehicle Section 2 by calling the number printed on the card. Those who visit
the theaters in the second week will get a card featuring AV-98 Ingram and its spec. Check the images below.
The second chapter poster
Akira Izumino business card
Ingram card
© 2014 "THE NEXT GENERATION -PATLABOR-" Production Committee