Conducted with 2,126 Japanese anime fans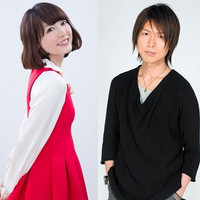 Charapedia, a Japanese anime curation site operated by Saitama-based company Egg Mode, has reported the result of their latest online survey "Anime Fans' Favorite Voice Actress/Actor Ranking 2014," which was conducted with 2,126 registered users and its Facebook members who were interested in the genre between March 20 and 26. The ratio of males to females was 42.5% to 57.5%. 79.9% of the voters were in their teens and twenties, the rest were 30 years of age or older. Check the top 10 rankings below. How popular your favorite voice actress/actor is?
Voice Actress Top 10
1. Kana Hanazawa (1,122 points)
Kuroneko/Ruri Gokou in Ore no Imouto ga Konna ni Kawaii Wake ga Nai
Charlotte Dunois in IS -Infinite Stratos-
Nadeko Sengoku in Nisemonogatari
2. Nana Mizuki (410)
Tsubomi Hanasaki/Cure Blossom in Heartcatch PreCure!
Fate Testarossa in Magical Girl Lyrical Nanoha
3. Miyuki Sawashiro (350)
Nanami Haruka in Uta no Prince-sama
Fujiko Mine in Lupin the Third
4. Yui Ogura (324)
5. Yukari Tamura (305)
6. Rie Kugimiya (233)
7. Nao Touyama (225)
8. Haruka Tomatsu (219)
9. Ayana Taketatsu (213)
10. Aki Toyosaki (206)
---
Voice Actor Top 10
1. Hiroshi Kamiya (1,211 points)
Levi in Attack on Titan
Seijuro Akashi in Kuroko's Basketball
Koyomi Araragi in Nisemonogatari
2. Tatsuhisa Suzuki (759)
Makoto Tachibana in Free!
Takao Kazunari in Kuroko's Basketball
3. Yuuki Kaji (657)
Alibaba in Magi: The Labyrinth of Magic
Nei Narumiya in Ace of Diamond
4. Tomokazu Sugita (602)
5. Daisuke Ono (458)
6. Mamoru Miyano (419)
7. Jun Fukuyama (408)
8. Hiro Shimono (407)
9. Yuichi Nakamura (386)
10. Kenichi Suzumura (384)
Source: press release