"Bully la Bully" pits spunky RILEY against the dangerous STACY and her TOP FOUR BULLIES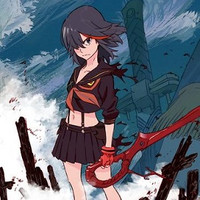 I'm supposed to be an industry professional. I keep my more sensitive opinions to myself, I try to keep from making overly inflammatory statements, and I try and be an overall positive person. With that said, finding out 4Kids is localizing one of your favorite shows is like finding out that it really wasn't a cold sore after all (not speaking from personal experience here, but hey).
YouTube creator/comedic genius Tony Le (inspired by Danganronpahentai's Tumblr post) asks an important question: "what if 4Kids got their claws into Kill la Kill, the incredibly ludicrous, over-the-top violent and so-sexy-you'll-pass-out series where the two female leads wear next to nothing and paint the logo title with each other's blood?" You get Bully la Bully! Enjoy!*
Right. Honestly, I've been wanting Weinerschnitzel for a while, and this didn't help. What do you guys think? Is Bully la Bully a pretty accurate assessment of what would happen if 4Kids got a hold of Kill la Kill?
EDIT: Added info on Danganronpahentai, who inspired the creation of this vid. Sorry 'bout that!


*Neither Crunchyroll nor Nate Ming take any responsibility for how much you may or may not enjoy Bully la Bully, and is not liable for any personal or property-related damage caused by raging over the contents of this video. Besides, it's all in good fun.