Stardust Crusaders and Season One added, both start Friday, April 4, at 9:30am Pacific Time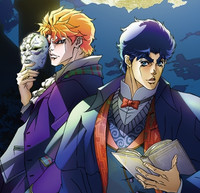 NOT A JOKE! NOT AN IMAGINARY STORY! Crunchyroll will soon begin streaming the amazing anime colossus known as JoJo's Bizarre Adventure!
Both Stardust Crusaders and Season One will be available starting on Friday, April 4, at 9:30am Pacific Time, 1 hour after Japanese broadcast for premium members, with free members able to watch one week later. More information can be found on www.crunchyroll.com/jojo.
Story and background
Finally, the long-awaited and hotly anticipated anime title makes its way outside of Japan! Based off of the long-running and hugely popular JoJo's Bizarre Adventure manga series by Hirohiko Araki, JoJo's Bizarre Adventure features a different protagonist for each of its story arcs, with the fact that each one is a descendent of the powerful Joestar family. Because of inheriting the Joestar family genes, each member in Stardust Crusaders has special fighting abilities known as "Stand," which manifests itself differently in each person.
Part 3 of the series, Stardust Crusaders, focuses on Jotaro Kujo, the grandson of Joseph Joestar, protagonist from the second series. David Productions, who also worked on the previous JoJo's Bizarre Adventure anime series returns for animation production, and famed voice actor Daisuke Ono, Sebastian in the Black Butler series, stars as Jotaro. Daisuke Hirawaka, Momotaro from Hozuki no Reitetsu, voices Noriaki Kakyoin, Fuminori Komatsu, Yasui Shinji from Inazuma Eleven, plays Jean-Pierre Polnareff, Kenta Miyake, Genma Shizume in Darker Than Black, is Mohammed Avdol, Unshou Ishizuka, Kizaru from One Piece, plays the old Joseph Joestar, and Takehito Koyasu, Oberon from Sword Art Online, stars as the antagonist DIO.
JoJo's Bizarre Adventure will be available to Crunchyroll's audience worldwide except Japan.
---------
Patrick Macias is editor in chief of Crunchyroll News. He is also the editor of Otaku USA magazine. Check out his rather amazing Tumblr at japanesefashioninferno.tumblr.com.