Starts Monday, April 7, at 11:00am Pacific Time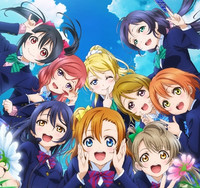 Spring is in the air. So are more new anime announcements at Crunchyroll. And the first title of the day is season two of Love Live! School Idol Project.
Love Live! School Idol Project is set to broadcast every Monday at 11:00am Pacific Time, starting on April 7 for its premium members, and free members able to watch one week later. More information can be found on www.crunchyroll.com/lovelive.
Story
"Otonokizaka High School is planning to close within three years. However, nine female students come together with one thing in mind— to form a pop idol group to revive the school's popularity and keep it from shutting down. 'In order to protect our beloved school, there's only one thing we can do...become pop stars!'
Their goal is simple: Become an overnight sensation and use their nationwide media exposure to promote their school and bring in a wave of new students to the ailing area. A simple but solid plan, they figure. Naturally, they're nervous and wonder if this plan can really succeed, but for better or worse their new journey has begun... "
Love Live! School Idol Project will be available to Crunchyroll's audience in the following territories: USA, Canada, UK, Ireland, South Africa, Australia, New Zealand, Denmark, Finland, Norway, Sweden, Central, South America, Spain, Portugal, Turkey, the Netherlands, France, Belgium, Switzerland, Andorra, Luxembourg, Algeria, Tunisia, Morocco, Guiana, Polynesia, Mayotte, New Caledonia, Réunion, Wallis & Futuna Islands, Germany, Austria, Lichtenstein, Italy, Poland, Czech Republic, Hungary, Romania, and Denmark.
---------
Patrick Macias is editor in chief of Crunchyroll News. He is also the editor of Otaku USA magazine. Check out his rather astonishing Tumblr at japanesefashioninferno.tumblr.com.