Episode 2 and 3 hits theaters on May 31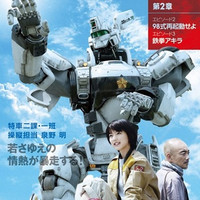 A trailer for the second chapter (containing of the second and third episode) of The Next Generation -Patlabor- live-action film series is now online. It features more action shots of the CGI-generated AV-98 Ingram, and veteran actor Naoto Takenaka as the strongest gamer oyaji (middle-aged man) who appears in the third episode "Tekken Akira." 58-year-old Takenaka previously voiced Shigeki Arakawa in Mamoru Oshii's 1993 film Patlabor 2: The Movie. So some fans have speculated that Takenaka's character might be somehow related with Arakawa in the story.
The first chapter which consists of the episode 0 and 1 will be finally released in Japan tomorrow on April 5. The second chapter hits theaters on May 31 for limited time of two weeks.
The trailer for the second chapter (episode 2&3)
The poster for the second chapter
The trailer for the chapter 1 (episode 0&1)
via: Cinema Today
© 2014 "THE NEXT GENERATION -PATLABOR-" Production Committee