Starts today, Friday, April 4 at 7:30pm Pacific Time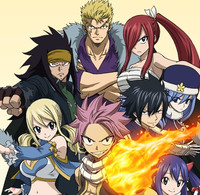 Well, well, well… did you see this one coming? Starting tonight, Fri/4, Crunchyroll will begin streaming them thar new episodes of Fairy Tail.
Fairy Tail is set to broadcast every Friday starting on April 4, at 7:30pm Pacific Time for its premium members, and free members able to watch one week later. More information can be found on www.crunchyroll.com/fairytail.
Finally! The anime based off of the hit manga series is back! After taking a year-long hiatus, Fairy Tail is finally back in action, continuing right where the first series left off. Following the adventures of Natsu Dragneel, Lucy Heartfilia,and the rest of their friends, the series jumps right back into the thick of the Grand Magic Games.
Although the cast will be reprising their roles, with Tetsuya Kakihara and Aya Hirano as Natsu and Lucy respectively, there have been some changes to the staff, such as the character designer, with Shinji Takeuchi, who also did character designs for Gintama and Ixion Saga DT, coming on board. A-1 Pictures is still helming the animation production as well, but studio Bridge, whose other works include Nobunagun and Mitsudomoe, will be replacing Satelight.
Fairy Tail will be available to Crunchyroll's audience worldwide ex Asia, France and DOM/TOM, Belgium, Switzerland, and Monaco.
---------
Patrick Macias is editor in chief of Crunchyroll News. He is also the editor of Otaku USA magazine. Check out his rather astonishing Tumblr at japanesefashioninferno.tumblr.com.