The 1st volume of Blu-ray/DVD will be released on June 18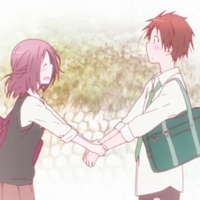 Toho Animation's official YouTube channel has posted three CMs for the April 2014 new TV anime Isshukan Friends/One Week Friends at the same time: for the OP song "Niji no Kakera" (A piece of the rainbow) by Natsumi Kon, the ED song "Kanade" by voice actress Sora Amamiya as the female protagonist of the show, Kaori Fujimiya, and the release of the 1st volume of the Blu-ray/DVD scheduled on June 18. The ED song is a cover of popular Japanese duo Sukima Switch's 2nd single released in March 2004. "Kanade" means melody or beautiful sound. Check the CMs below.
One Week Friends is now available to Crunchyroll's audience in the USA and Canada.
The OP song "Niji no Kakera" by Natsumi Kon (May 21 release)
The ED song "Kanade" by Sora Amamiya (May 21 release)
The 1st volume of the Blu-ray/DVD (June 18 release)
(C)ONE WEEK FRIENDS Project
(C)MATCHA HAZUKI/SQUARE ENIX