Sung by the anime voice actress unit YELL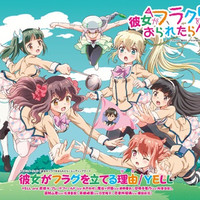 Following the OP song "Cupido Revue" by Aoi Yuuki, the official site for the on-going new TV anime Kanojo ga Flag wo Oraretara has posted a promotional video for the ED song "Kanojo ga Flag wo Tateru Wake" (The reason why she sets the flag) sung by the newly-formed voice actress unit for the anime,YELL. The six members of the unit are: Ibuki Kido (Nanami Knight Bladefield), Ai Kayano (Akane Mahougasawa), Kana Asumi (Kikuno Shokanji), Kana Hanazawa (Megumu Touzokuyama), Yoko Hikasa (Rin Eiyuzaki), and Ayaka Suwa (Ruri Ninjabayashi). The CD single will be released on April 13, the same day with the OP song.
The PV features a foreign girl dance team "Gaworare Tai" of Gaworare Senden Butai (Gaworare Publicity Unit) from the principality of Braidfield, the home country of the main heroine Nanami Knight Braidfield.
The CD jacket illustration
Key visual for the TV anime
© Touka Takei, Kodansha/Gaworare Production Committee