Starts tomorrow, April 8, at 9:30am Pacific Time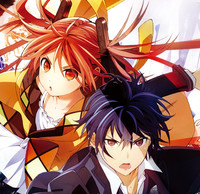 The ground shook, the mountains crumbled, and out came the earth-shattering announcement: Crunchyroll will begin streaming the Black Bullet anime starting tomorrow.
Black Bullet is set to broadcast every Tuesday starting on April 8, at 9:30am Pacific Time for its premium members, and free members able to watch one week later (Please note that French-speaking territories have a 6-month holdback). More information can be found on www.crunchyroll.com/blackbullet.
Background and story
Based on the light novel written by Shiden Kanzaki and illustrated by Saki Ukai, Black Bullet takes place in an alternate future where mankind was defeated by a parasitic virus, called Gastrea. Humanity is now forced to live within walls made of material that is able to subdue the Gastrea virus. Soon, children with the ability to control the Gastrea virus, a consequence of being born with the virus inside them, are discovered, and are used to fight against the Gastrea in Civil Securities teams that pair them with a normal human.
Yuuki Kaji, Eren from Attack on Titan fame, stars as the main male lead, Rentaro Satomi, a normal human paired up with Enju Aihara, played by Rina Hidaka, also known for her role as Silica in Sword Art Online. The opening theme song is "black bullet" by fripSide, and famed Nico-singer-turned-professional Nagi Yanagi sings "Tokohana" as the ending theme.

Black Bullet will be available to Crunchyroll's audience in the following territories: USA, Canada, UK, Ireland, Australia, New Zealand, South Africa, Netherlands, Scandinavia, Turkey, Latin America, Italy, Spain, Portugal, the Middle East, the Arab League, France and DOM/TOM, Belgium, Switzerland, Andorra, Luxembourg, Algeria, Tunisia, Morocco.
---------
Patrick Macias is editor in chief of Crunchyroll News. He is also the editor of Otaku USA magazine. Check out his rather astonishing Tumblr at japanesefashioninferno.tumblr.com.