The poster will be displayed in stations and high schools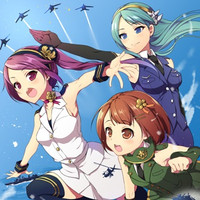 Following the Okayama office, Japan Self Defense Force's Ibaraki provincial cooperation office has revealed its latest recruit poster featuring three moe mascot girls: Koume (Army), Nobara (Navy), and Hibari (Airforce), designed by manga artist/illustrator Pochi Iida. The poster chosen from the public will be displayed in stations and high schools in the prefecture from this June.
Media Factory has released two tankobon volumes of love-comedy manga Mirai Shoujo Emomotion (Future Girl Emomotion) illustrated by Iida (under the name of Nogi Iida) with the story by Reiji Kaitou (Unbreakable Machine-Doll). Iida has also illustrates for several light novels including Kuro no Kerykeion (Black Kerykeion) by Fuminori Teshima from Fujimi Fantasia Bunko.
JSDF Ibaraki office's recruit poster. The tagline says, "Start yourself who can protect someone!"
Textless version
Character reference art (from left: Hibari, Nobara, Koume)
---
"Mirai Shoujo Emomotion" vol.1 cover
"Kuro no Kerykeion" vol. 1 cover
via: Netlab, Pochi Iida's official Twitter