The story of 16 girls with the aim of becoming top idols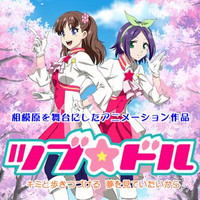 The first press conference for Sagamihara-city's 60th anniversary commemorative OVA series titled Tubu Dol was held at Sagamihara Citizen Sakura Matsuri on April 6. The 720,000-populated city is located in the northern part of Kanagawa Prefecture in the Kanto area. The project was launched by the Sagamihara Citzen Musical Executive Committee to revitalize the local economy. The production cost will be financed by the donated money from the citizen and local companies.
The story of the five-episode anime sets in the city and features 16 girls who will achieve their dreams to be top idols. All of their family names are taken from the places in the city. The girls will promote the city and its special products through their idol activities. The first episode is scheduled to be released in this fall. The project also plans to release drama CDs, broadcast radio programs, and hold various live
events in collaboration with local communities.
It is already announced popular voice actress Ayana Taketatsu will voice one of the 16 girls, Sakura Ohno,
with Aya Suzaki as Fujino Tanzawa, the two characters featured in the promotional poster below. The cast
will also perform the theme song and insert songs for the anime.
The announced voice cast:
Ayana Taketatsu as Sakura Ohno
Aya Suzaki as Fujino Tanzawa
Maaya Uchida as Minami Misono
Nao Touyama as Midori Aihara
Shizuka Ishigami as Satsuki Shikanuma
Shiori Mikami as Hibari Nihonmatsu
Nozomi Yamamoto as Miho Shiroyama
Naomi Ozora as Jun Tsukui
Yuka Ohtsubo as Futaba Fuchinohe
Ayane Sakura as Kazuko Asamizo
Moe Toyota as Aina Miyamae
Chie Uihara as Akari Ogura
Kana Yuuki as Takano Miyagase
Natsumi Sugita as Moegi Soubu
Serena Atou as Ayu Tsukui
Shizuka Ichinomiya as Madoka Sanogawa
via: Mainichi
© starlight project TubuTubu★DOLL