The drama CD voice cast reprise their roles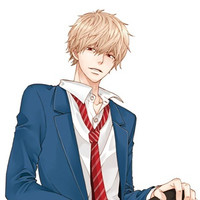 It is officially announced today on April 11 that a TV anime adaptation of Ayuko Hatta's popular shoujo manga Okami Shoujo to Kuro Ouji/Wolf Girl & Black Prince is in the works. The manga has been serialized in Shueisha'a Bessatsu Margaret since its July 2011 issue and now eight tankobon volumes are available. It has had over 2.4 million print run in Japan. The special edition of the 6th volume published in May 2013 came with a drama CD, and its voice cast will reprise their roles in the upcoming TV anime.
The story centers on a 16-year-old high school girl Erika Shinohara. She is always showing off by talking about love stories with her boyfriend. But the truth is that she has never had one in her entire 16 year life. One day she takes a sneak shot of a good-looking boy she saw in town and makes a display of it claiming he's her boyfriend. Then soon she learns the boy is Kyoya Sata, who goes to the same
school as her. He agrees to keep the secret and pretend as her boyfriend for her, but in return he orders
her to be his "dog."
The voice cast:
Erika Shinohara: Kanae Ito
Kyoya Sata: Takahiro Sakurai
Ayumi Santa: Ai Kayano
Marin Tachibana: Mariya Ise
Aki Tezuka: Mikako Komatsu
Yoshito Kimura: Nobunaga Shimazaki
Nozomi Kamiya: Yoshitsugu Matsuoka
Takeru Hibiya: Yoshimasa Hosoya
Yu Kusakabe: Ayumu Murase
Key illustration
Volume 1 cover (digital version)
Volume 8
Source: Comic Natalie
© Ayuko Hatta/Shueisha, "Wolf Girl & Black Prince" Production Committee