Very rare official statement from a Japanese copyright holder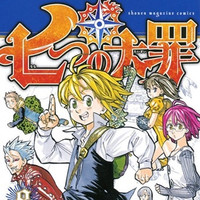 As reported, Kodansha officially announced a TV anime project based on Nakaba Suzuki's fantasy manga Nanatsu no Taizai/The Seven Deadly Sins in the 20th issue of Weekly Shonen Magazine yesterday on April 16. Expecting the upcoming increase of its popularity among the fan community, the publisher has released a comment regarding derivative works such as fan fictions, doujinshi, and cosplay. The official Twitter account of the honcho (group leader) of its monthly magazine Magazine SPECIAL today posted as follows:
"An anime adaptation is finally realized thanks to everyone's support, now I want to make clear one thing. The Nanatsu no Taizai/The Seven Deadly Sins franchise allows any personal derivative works such as fan fictions, doujinshi, and cosplay. However, selling costumes is excluded. Meliodas, Ban, King, Gowther, the leader of the Holy Knights, everyone doesn't care who the fans' favorite is, and I
think every character has their own charm."
Traditionally, doujinshi creators and cosplayers don't obtain permission from the copyright owner over the
use of the characters for their derivative works. Most of the manga/game publishers and anime production
companies have simply overlooked their activities over the years and that's one of the main reasons why the
anime/manga fan community has grown so massively in Japan. On the other hand, the amateur creators
have had a fear of the possibility of legal prosecution as copyright violators. Therefor, this comment by the
publisher is a great relief for the fans who want to show their love for The Seven Deadly Sins with their
secondary creations.
The cover of the 20th issue of the Shonen Magazine announcing the TV anime project
Source: Magazine SPECIAL houncho's official Twitter
© Nakaba Suzuki/Kodansha Ltd.