New "Avatar" and "Legend of Korra" books also scheduled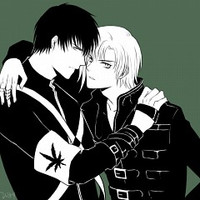 North America publisher Dark Horse has announced their plans for July comics and September books. With CLAMP's Drug & Drop coming from the publisher in 2015, an omnibus of its predecessor Legal Drug is scheduled for September. Their release of the second collection of the anticipated Lone Wolf and Cub sequel is also planned for the month.
Legal Drug Omnibus TP
CLAMP (W/A/Cover)
On sale Sept 10
b&w, 528 pages
$19.99
TP, 5 1/8" x 7 1/4"
Kudo Kazehaya's name evokes the wind, which is given to warn him that one day he, too, might disappear. He almost thought his time had come—until he was rescued by the dark, handsome, and equally mysterious Himura Rikuo. Now they both reside where Rikuo works, the Green Drugstore, a place that dispenses not only medicine but the secret powers of both Rikuo and Kazehaya, as the pair embark on missions into the paranormal at the bidding of its strange proprietor, Kakei.
•Get the sequel, Drug & Drop,in 2015 from Dark Horse!
New Lone Wolf and Cub Volume 2 TP
Kazuo Koike (W) and Hideki Mori(A/Cover)
On sale Sept 3
b&w, 208 pages
$13.99
TP, 5"x 7 1/8"
In Kazuo Koike's Lone Wolf and Cub sequel, Daigoro, son of the slain "Lone Wolf," accompanies warrior Togo Shigekata on the road to Satsuma. But the secret message Togo carries is a fraud, and enemies have aligned to ensure the message's delivery. . . and the death of Daigoro!
Also of note..
#1 for $1: Avatar: The Last Airbender—The Rift #1
Gene Luen Yang (W), Michael Dante DiMartino(W), Bryan Konietzko(W), and Gurihiru(A/Cover)
On sale July 2
FC, 32 pages
$1.00
One-shot
Written and drawn by the team behind the best-selling The Promise and The Search, Gene Luen Yang and Gurihiru (in collaboration with Airbender and Korra creators Michael Dante DiMartino and Bryan Konietzko), this is the ultimate continuation of Avatar and the perfect companion to Legend of Korra!
The Legend of Korra: The Art of the Animated Series Book Two—Spirits HC
Michael Dante DiMartino(W), Bryan Konietzko(W/Cover), and Joaquim Dos Santos(W)
On sale Sept 3
FC, 184 pages
$34.99
HC, 9"x 12"
This handsome hardcover gives you an in-depth look at the creative team behind the vibrant and richly detailed world ofKorra. Discover never-before-seen artwork created during development of Book Two: Spirits. With detailed commentary throughout, this is an intimate look inside the creative process that brought the mystical world of bending and a new generation of heroes to life!
The Legend of Zelda Coffee Mugs
On sale July 16
The Legend of Zelda: Ocarina of Time—Li'l Link Mug
$14.99
The Legend of Zelda: Ocarina of Time—Link on Epona Mug
$14.99
Dark Horse Deluxe brings you two high-quality mugs based on characters from the
award-winning franchise. Each colorful mug is a big 16 oz. size. Packaged in a color box.
Usagi Yojimbo Color Special: The Artist
Stan Sakai (W/A/Cover) and Tom Luth (C)
On sale July 9
FC, 32 pages
$3.99
One-shot
The artist of 47 Ronin returns to his signature creation in a new one-shot collecting four Usagi Yojimbo tales in full color, from the pages of Dark Horse Presents and MySpace DHP! In this issue, Usagiencounters ghosts, thugs, pumpkins(?!), and a foreign artist with a price on his head! Collects "Saya," "Buntori," "The Artist," and the much-lauded "Cut the Plum"!Collects stories from Dark Horse Presents #7, #35, and #36, and MySpace Dark Horse Presents #18 and #35!
• 32 pages of color stories and a perfect entry point for new readers!
•Contains a preview of Usagi Yojimbo: Senso #1!
See Dark Horse's full slate of solicitations here
------
Scott Green is editor and reporter for anime and manga at geek entertainment site Ain't It Cool News. Follow him on Twitter at @aicnanime.