The magazine has increased its circulation 10 times more than before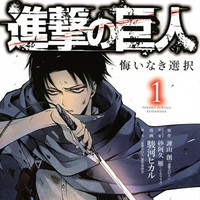 The first volume of Attack on Titan: Kuinaki Sentaku (The choice with no regret), a spin-off manga of Hajime Isayama's mega hit Attack on Titan series, was released in Japan on April 9, the same day with the 13th volume of Isayama's original. It is illustrated by Hikaru Suruga with a story by Gan Saaku (Gargantia on the Verdurous Planet, Guilty Crown: Princess of Deadpool novel), and has been serialized in Kodansha's monthly magazine ARIA since its January 2014 issue. It features one of the popular characters of the series, Levi, and his past story never told in the original.
The Attack on Titan: Kuinaki Sentaku first volume ranked fourth in the Oricon weekly comic ranking in its first week, while the regular and special editions of the original's 13th volume took the first two places. Seeing its huge sales, the publisher immediately decided to reprint it on the release day. Now the total print run has reached 500,000, an amazing number for manga's spin-off series. Moreover,
the February 2014 issue of the magazine serializing the spin-off increased its circulation 10 times
more than before it started.
Related:
"Attack on Titan" Manga 13th Volume Sells 1.4 Million Copies in Its First Week
"Attack on Titan" Manga 13th Volume Gets 2.75 Million First Print Run
"Attack on Titan: Kuinaki Sentaku" first volume cover
ARIA February 2014 issue cover
Source: Mantan Web
(C) Hajime Isayama/Kodansha