Contest runs through May 15th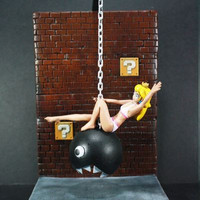 Like a good Miley Cyrus joke? How about crossing her "Wrecking Ball" video with Mario's leading lady, Princess Peach? That's exactly what one custom figure maker did, and you can win the hilarious result. Custom guy Kodykoala posted the picture of his finished crossover statue to his Facebook page, and it's pretty funny:
How do you win? Simple. Like his Facebook page and share the link to his contest. You can enter up to May 15th, so get to clicking.
While you're there, you should check out some of his other work. His penchant for whimsy is part of what makes his stuff so great.
Via Tomopop