The world premiere will be held in Osaka on May 25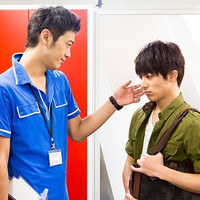 The official site for the upcoming live-action adaptation film of Kou Yoneda's boys love manga Doushitemo Furetakunai (translated as "I am very afraid to touch") has posted the first trailer featuring the two main cast: Kousuke Yonehara (a member of boys idol group RUN&GUN) as 26-year-old Toshiaki Shima, and Masashi Taniguchi (Nagare Tatsumi/Go Blue in Kyuukyuu Sentai GoGoFive) as his new boss at work, Yousuke Togawa. The manga, the female BL manga author Yoneda's debut work, was serialized in Taiyou Tosho's CRAFT from 2007 to 2008, then one volume tankobon was published in September 2008. The English version titled as No Touching At All was published by Digital Manga Publishing in March 2011.
32-year-old female independent film artist Chihiro Amano makes her commercial feature debut with this BL-themed movie. Her films have been well-received in many film festivals including Sapporo International
Film Festival and Aichi International Women's Film Festival. Doushitemo Furetakunai will be screened at
Theater Imageforum in Shibuya, Tokyo, from May 31, and the world premiere is scheduled to be held at
Asahi Seimei Hall in Osaka on May 25.
Book Description (via Amazon):
On his very first day at a brand-new job, shy Shima is trapped in the elevator with a hungover mess of a
guy…who turns out to be his boss! Togawa's prickly exterior definitely puts the rookie recruit on-edge, but
it doesn't take long before Shima's every waking thought is invaded by his overbearing yet totally thoughtful
superior. Will Shima put aside a history of disappointment in order to take a chance on a complicated
relationship? No Touching At All breaks every rule in the office handbook in the name of mixed signals,
shared memories, and the sweet surrender of an after-hours liaison! Shima and Togawa butt heads both
at work and in the bedroom…but their inexplicable chemistry is far too intense to ignore. Can these two men
forget their painful pasts and move forward hand-in-hand?
Source: "Doushitemo Furetakunai" official site
© Kou Yoneda,Taiyou Tosho/"Doushitemo Furetakunai" Production Committee