29-year-old ex-NEWS member plays an ikemen English teacher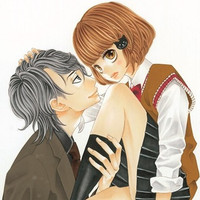 It is officially announced today on April 23 that a live-action film adaptation of Rin Mikimoto's popular shoujo manga Kinkyrori Renai (Short distance relationship) is set for a October 11 release in Japan. The official site for the film also launches. The manga was serialized in Kodansha's Bessatsu Friend from 2008 to 2011 and was compiled in 10 tankobon volumes.
18-year-old fashion model Nana Komatsu plays the protagonist girl Yuni Kururugi with Tomohisa Yamashita as Haruka Sakurai, her teacher and secret boyfriend. Yamashita made his debut as a member of Johnny & Associates' boys idol group NEWS in 2003, but left the group in 2011 to concentrate on his solo works (still belongs to the agency). His portray as Joe Yabuki in the 2011 live action film adaptation of Tetsuya Chiba's classic boxing manga Ashita no Joe was highly praised by the critics. Nozomu Kotaki, a member of Johnny's WEST, a newly-formed boys idol group of Johnny
& Associates, also join the cast as Yuni's classmate Matoba. 47-year-old Naoto Kumazawa, who previously
worked on another film adaptation of popular shoujo manga, Kimi ni Todoke in 2010, directs the film.
The story centers on a genius high school girl Yuni Kururugi who is always at the top of the school. However,
her only weak subject is English. After an unexpected turn of events, she starts dating with Haruka Sakurai,
a ikemen (good-looking) short time substitute English teacher. They decide to keep their relationship secret
till his working period is finished.
The manga illustrations
The tankobon 1st volume cover
via: Comic Natalie
© Rin Mikimoto/Kodansha
© "Kinkyrori Renai" production Committee