Does saying "kawaii" make you kawaii?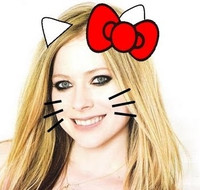 If you've ever wanted to see Avril Lavigne stomping around Tokyo while screaming the word "kawaii" over and over to a deafening dubstep break, now's your big chance. The pop star has launched a full blown attack on Japan, and indeed the internet, via her new music video entitled "Hello Kitty". Try and wrap your head around it below.
While Avril isn't quite the mega-selling star she once was in the USA ("Sk8er Boi" came out in 2002, btw), she remains a big draw over in Japan. While the "Hello Kitty" song has been around since its official release in November, the shot-on-location video is new. The "blond girl plus emotionless backup dancers" staging sort of gives me Gwen Steffani / Harajuku Girls flashbacks (and not in a good way), but your millage with may vary.
Hello Kitty (who does not appear in the video) could not be reached for comment, which is just as well since she doesn't have a mouth.
---------
Patrick Macias is editor in chief of Crunchyroll News. He is also the editor of Otaku USA magazine. Check out his rather astonishing Tumblr at japanesefashioninferno.tumblr.com.